"Stop stop stop, nu!".

"Nee, niet doen schattie!"

"Kijk naar haar staart en oren. Ze gaat … oei, te laat"
Dit zijn gesprekken die ik in huis al eens heb… over mijn Ziva en haar agressie.
Dan ligt mijn lieve Ziva op schoot bij mijn partner. We kijken samen tv en ze ligt heerlijk te spinnen. Mijn partner is haar dan aan het strelen.

Maar soms kan ze plots uithalen met haar klauwen of bijten om duidelijk te maken dat ze er genoeg van heeft. Of dat ze de situatie niet fijn vindt of gestresst is van iets.

Zo heeft ze mij in het begin ook vaak lelijk te pakken gehad.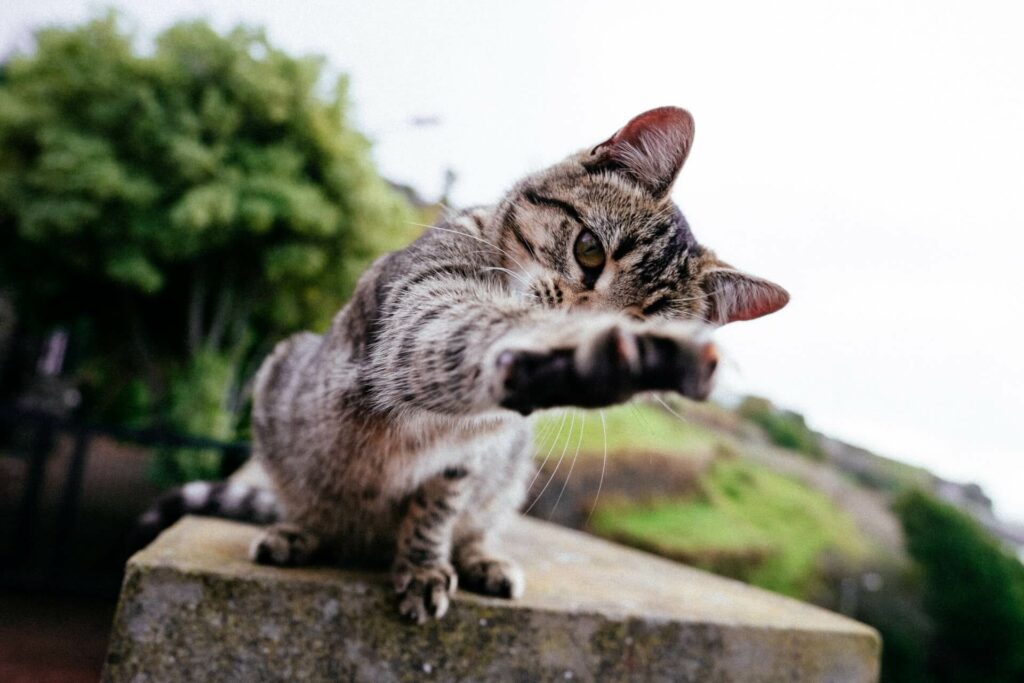 Mijn Ziva is dan ook nogal een agressieve kat. Toen ze 2 jaar was heb ik haar uit het asiel gehaald. Dus ik weet niet wat ze in die 2 jaar allemaal heeft mee gemaakt. Ik weet ook niet hoe haar vader en moeder waren. Of hoe ze bij andere kattenbaasjes was geweest.
In het begin zag ik vooral haar signalen van krabben en bijten om duidelijk te maken dat je ergens mee moest stoppen.

Intussen heb ik geleerd om ook haar subtiele signalen te zien. Zoals haar staart die wat zwiept, haar snorharen die niet meer naar voren staan, haar lichaam dat niet meer zo relaxed is, enz.Maar die signalen zijn vaak zo klein dat andere mensen ze niet zien. En dan heeft ze hen te stekken.
Soms waarschuw ik mijn partner nog en trekt hij op tijd zijn hand weg. Soms ben ik te laat…
Maar hij leert het wel … het aantal schrammen op zijn hand is intussen al fel gedaald.
---
Wil jij meer weten over hoe je je agressieve kat helpt? Lees dan mijn artikel over: