Deze week was ik te gast in de zalige podcastreeks 'Why do you podcast'. En je raadt het al … in de reeks vertellen podcasters over hun persoonlijke "Waarom ik podcast".
Ik was zo vereerd om ook deel te mogen nemen. En tussen al die andere fantastische podcasters te mogen staan.
Zij hebben mij enorm geïnspireerd om verder te gaan met mijn podcast, om mijn podcast steeds beter te maken en om volop te genieten van mijn missie. En mij daarbij minder te focussen op al die cijfertjes en statistieken. Maar wel op waarom ik het doe. En op wat ik daarmee teweeg kan brengen en verbeteren in het leven van katten en hun baasjes.
Wil jij horen "Waarom ik podcast"?
Klik dan op de knop hieronder en ga naar episode 27.
Oh and by the way … de aflevering is live gegaan op 8 augustus 2023 … dat was Wereldkattendag. Hoe geweldig is dat!!!
Veel luisterplezier! En laat me zeker weten wat je van de aflevering vond via een reactie hieronder, een mailtje naar kelly@thepetcoach.be of via een DM op Instagram.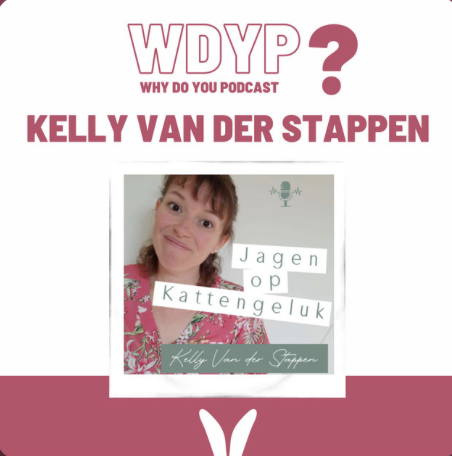 Extra inspiratie
Hieronder vind je een aantal linken naar andere episodes van de podcast "Jagen op Kattengeluk" met extra inspiratie:
---
Linken en leuke extra's
>>>>> Wil je geen enkele aflevering van de podcast "Jagen op Kattengeluk" missen? Abonneer je dan nu via je favoriete podcastkanaal (Spotify – Apple podcast – …).
En je kan de podcast ook bekijken als video op YouTube als je mij liever in actie ziet. En pssst, vergeet je niet gelijk te abonneren op mijn YouTube kanaal hé.
>>>>> Wil je nog meer advies over katten? Schrijf je dan hier in voor de CAT TAILS nieuwsbrief.
En volg me op::